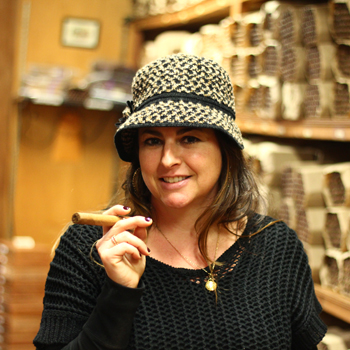 Shawna Sharruf
In my early 20's I did what most college kids do. I bussed tables and bartended while finishing my degree in hotel restaurant management. I started working with my father in San Diego in the mid 90's at Cuban Cigar Factory where I did everything from working the cash register to putting cellophane on cigars, and quickly discovered how much I enjoyed the history and tradition of fine cigar making. During the next five years, I had decided that this was "my thing". When my father sold the business in San Diego, I realized how important it was for me to carry on the family tradition and take a lead role in the next endeavor.
We loaded up molds and tobacco and headed to New Orleans in a U-HAUL. Arriving in New Orleans was about the equivalent of landing on the moon for me. I could not pronounce any of the street names. I didn't know if I was on the east bank or the west side or going north on south peters!! I heard new languages, and words like Lagniappe??? I found out what Mardi Gras was all about (still learning). I ate things like boudin and alligator. I had too many hurricanes, too many times. I lost my home in Katrina and found a community and people unlike anything I've ever known.
As President of Cigar Factory New Orleans, I share the pride of our success with my father David. We are dedicated and committed to making one of the best cigars available and providing superior customer service. You can usually catch me burning a panatela at the Decatur St. location during the day…make sure you come say hello.